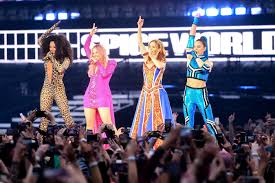 Uh oh, the Spice girls reunion (minus Victoria Beckham/Posh Spice) looks like it didn't go as planned! * STOP right now thank you very much* (spice girls song reference:)) Their much awaited reunion tour kicked off in Dublin last night and apparently loads of people were so furious with the concert they just walked out! People have been freaking out and waiting for this tour for months now and tickets sold out in minutes…but they weren't so happy!
Firstly Posh Spice wasn't there…secondly the sound quality was so bad in certain parts of the hall that some people couldn't even hear what was going on. Like couldn't here anything! Disaster!
And social media can be so brutal as loads of people went on twitter to express their frustrations:
"I was at their show in Dublin last night and it was a disgrace. Sound was shocking. Tons of people left early and it was a very expensive waste of money," "Too bad you can't hear a thing. The sound is awful...Loads of people leaving,"
and
"There's something wrong when the crowd at @spicegirls concert are all sitting down because no one has a clue what song is on because the sound really is THAT bad." Yikes!!
We love the Spice Girls eitherway...maybe they need to spice up and crank up the volume next time!