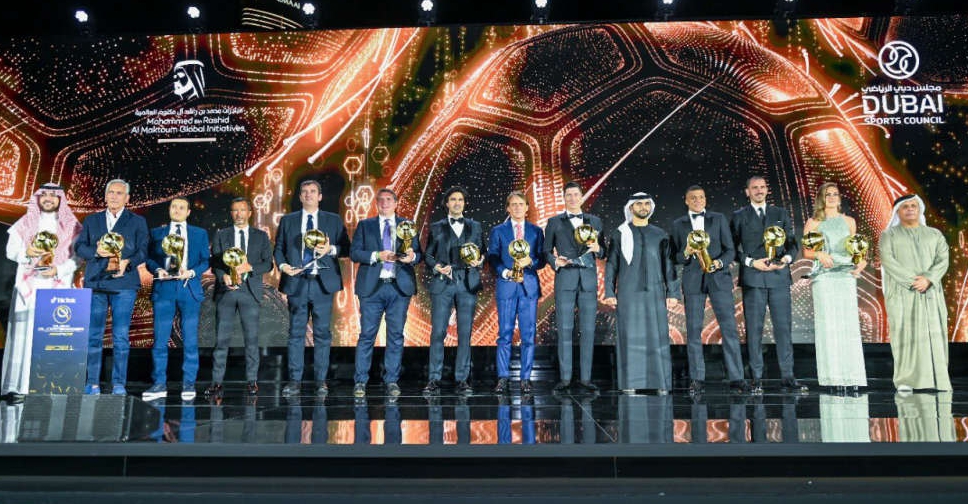 @DXBMediaOffice/ Twitter
Kylian Mbappe took the top honours at the annual Dubai Globe Soccer Awards.
The France and PSG striker was named the Men's Player of the Year, while Bayern Munich star Robert Lewandowski won the Fans' Player of the Year award.
The Poland captain was also crowned the best goal scorer of the year.
Cristiano Ronaldo and Ronaldinho were among the other winners at the Awards' 12th edition.
His Highness Sheikh Mansoor bin Mohammed bin Rashid Al Maktoum, Chairman of Dubai Sports Council, honoured the winners, at a ceremony held on Monday night on the sidelines of the 16th Dubai International Sports Conference at Armani Hotel, Burj Khalifa.
Spain international and captain of the FC Barcelona women's team, Alexia Putellas, was named Women's Player of the Year, and her club FC Barcelona was adjudged Dubai Globe Soccer Women's Club of the Year.
Italy, winners of the 2020 UEFA European Championship, were crowned Best National Team, and their coach Roberto Mancini was named Coach of the Year.
Juventus centre-back Leonardo Bonucci, who has been an integral member of Mancini's record-setting Italy national team, picked up the award for the Defender of the Year, while the Italian league was honoured with the Dubai Globe Soccer Innovation Award.
Ronaldo – winner of six Dubai Globe Soccer Men's Player of the Year awards as well as the Dubai Globe Soccer Player of the Century 2001-2020 award last year – was bestowed with the Top Goal Scorer of All Time award, while Ronaldinho, one of the stars of Brazil's 2002 FIFA World Cup triumph, was honoured with the Player Career Award.
The other Award winners on the night were Manchester City's Director of Football Begiristain Mujika (Sporting Director of the Year); Federico Pastorello (Agent of the Year); Gianluigi Donnarumma (Goalkeeper of the Year); Saudi Arabia's 2018 FIFA eWorld Cup winner Mossad Aldossary (eSports Player of the Year); and Giza-based Egyptian football club ZED FC (Grassroots Academy Award).
What a phenomenal night! Thank you for making Globe Soccer Awards 2021 so special 🙏🏆@DubaiSC @TikTokMENA pic.twitter.com/1SCUjnItXr

— Globe Soccer Awards (@Globe_Soccer) December 27, 2021
We congratulate all the winners of the Dubai Globe Soccer Awards 2021, which brought together sporting luminaries from around the world; the event's success further raises Dubai's profile as a leading global sports destination. pic.twitter.com/Dqsgbg8ZgU

— Mansoor bin Mohammed (@sheikhmansoor) December 27, 2021