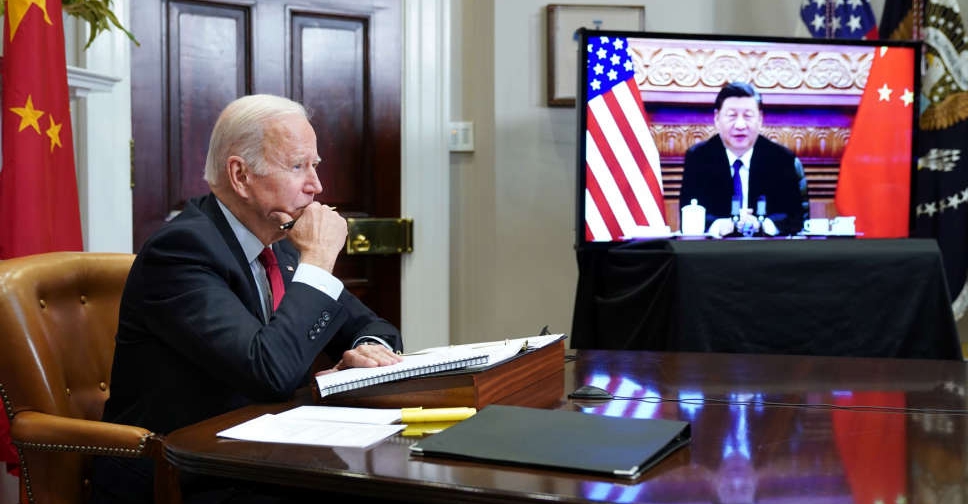 Chinese President Xi Jinping told US President Joe Biden in a video call on Friday that the war in Ukraine must end as soon as possible and called on NATO nations to hold a dialogue with Moscow.
In the call, which lasted nearly two hours, Biden was expected to tell the Chinese leader that Beijing would pay a steep price if it directly supports Russia's invasion of Ukraine, a warning at a time of deepening acrimony between the world's two largest economies.
The White House did not immediately comment after the call but was expected to give details later.
Earlier Friday, US Deputy Secretary of State Wendy Sherman said China should ensure it does not end up on the wrong side of history over Ukraine by supporting Russia.
"China needs to stand on the right side of history. It needs to ensure that it does not backfill, financially or in any other way, sanctions that have been imposed on Russia," she told CNN.
Xi told Biden that conflicts and confrontations were in non-one's interests, according to a Chinese foreign ministry statement.
"The top priorities now are to continue dialogue and negotiations, avoid civilian casualties, prevent a humanitarian crisis, cease fighting and end the war as soon as possible," Xi said.
He said all parties should support Russia-Ukraine dialogue and negotiations while Washington and NATO should also conduct talks with Russia to solve the "crux" of the Ukraine crisis and resolve the security concerns of both Russia and Ukraine, the statement said.
"The Ukraine crisis is something that we don't want to see," Chinese state media quoted Xi saying in the call, which it said was requested by the US side.
Major nations should "respect each other, reject the Cold War mentality," and "refrain from bloc confrontation," the Chinese foreign ministry statement said.
On Thursday, US Secretary of State Antony Blinken said the Biden administration was concerned China was considering directly assisting Russia with military equipment for use in Ukraine, something Beijing has denied.
Blinken said Biden would make clear to Xi that China will bear responsibility if it supported Russia's "aggression" and Washington "will not hesitate to impose costs." Russia says it is carrying out a special military operation in Ukraine.
Washington is also concerned that China could help Russia circumvent Western economic sanctions.