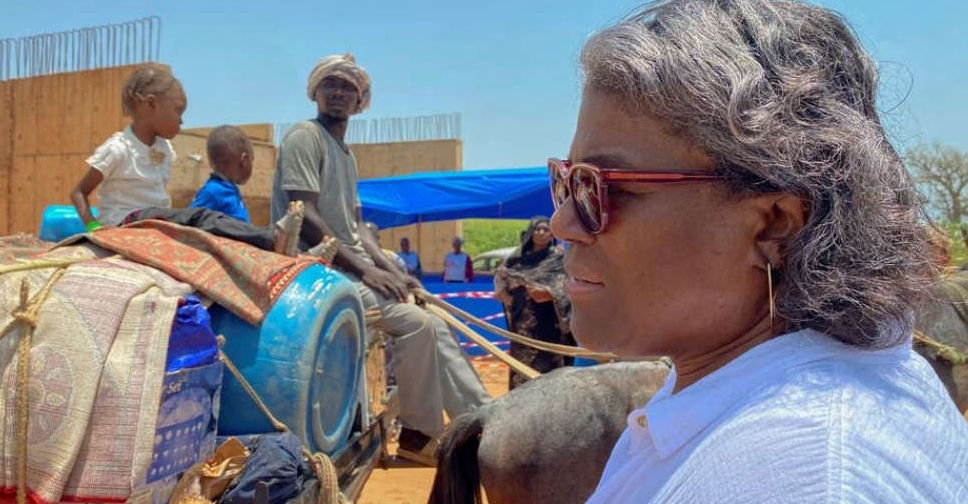 The US envoy to the United Nations met Sudanese refugees fleeing ethnic and sexual violence on Wednesday and said the US would "do everything in our power to prevent and respond to mass atrocities" in Sudan's war.
On a visit to the town of Adre in Chad on the border with Sudan, Linda Thomas-Greenfield, a member of President Joe Biden's cabinet, announced high-profile sanctions targeting the deputy leader of Sudan's paramilitary Rapid Support Forces (RSF) - and brother of the RSF commander - over human rights abuses.
She met privately with about seven Sudanese women in Adre who told her how they had fled intense violence.
"They all came to Chad out of fear out of what would happen to them next. None of them expressed a sense or even a desire to return home as long as the violence continued," Thomas-Greenfield told Reuters.
She also visited a makeshift hospital run by medical charity Medecins Sans Frontieres (MSF), where some 144 patients were being treated, mainly for malnutrition. As she walked through a ward, a woman was slowly feeding a malnourished baby.
War broke out in Sudan on April 15 - four years after former President Omar al-Bashir was ousted by a popular uprising. Tensions between the army (SAF) and RSF, which jointly staged a coup in 2021, erupted into fighting over a plan to transition to civilian rule.
UN aid chief Martin Griffiths warned that Darfur was again "descending into an abyss without mercy or hope".
The UN says that since April some 380,000 refugees - mostly women and children - have fled to Chad. Hundreds of thousands more have escaped to Central African Republic, Egypt, Ethiopia and South Sudan.
The UN Refugee Agency (UNHCR) has appealed for $1 billion to help provide aid and protection to more than 1.8 million people who are expected to flee Sudan this year. Nearly 7.1 million people are displaced inside the country, according to the International Organisation for Migration.
Thomas-Greenfield said the US would give an additional $163 million in aid and urged others to step up.
The UN says half Sudan's 49 million people need help and has appealed for $2.6 billion - so far, it has secured only 26 per cent of this amount.
In recent weeks the UN has been able to deliver aid into West Darfur from Chad and has aid trucks ready to reach other parts of the region, but said "unrelenting clashes" were stopping them from reaching the people in need.
"Darfur's people are caught in a state of near total deprivation. Our message is urgent: Stop the fighting and let us through," Griffiths said.