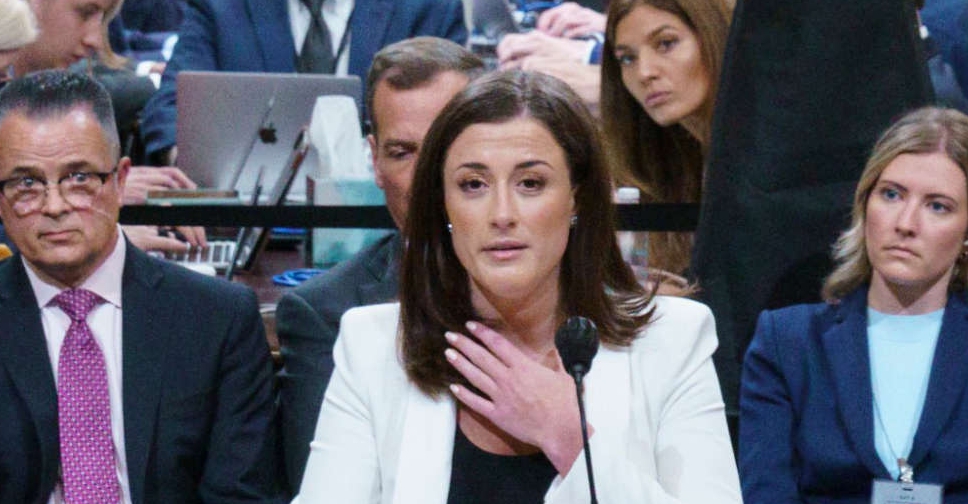 Cassidy Hutchinson testifies at the January 6 Select Committee POOL/ GETTY IMAGES NORTH AMERICA/ Getty Images via AFP
Donald Trump tried to grab the steering wheel of his presidential limousine on January 6, 2021, when his security detail declined to take him to the U.S. Capitol where his supporters were rioting, a former aide testified on Tuesday.
The then-president dismissed concerns that some supporters gathered for his fiery speech outside the White House that day carried AR-15-style rifles, instead asking security to stop screening attendees with metal-detecting magnetometers so the crowd would look larger, the aide testified.
"Take the...mags away; they're not here to hurt me," Cassidy Hutchinson, who was a top aide to Trump's then-White House Chief of Staff Mark Meadows, quoted Trump as saying that morning.
Hutchinson, in testimony on the sixth day of House of Representatives hearings into the deadly January 6 Capitol assault by Trump's followers, said the conversation was relayed to her by Tony Ornato, a senior Secret Service official who was Trump's deputy chief of staff for operations.
The New York Times and NBC, citing sources in the Secret Service, said the head of Trump's security detail, Robert Engel, and the limousine driver were prepared to testify under oath that Trump never lunged for the steering wheel. Engel was in the room when Ornato relayed the story, Hutchinson said.
The New York Times and CNN, citing unnamed sources, reported that Ornato also denies the story and is willing to testify.
Citing her conversation with Ornato, Hutchinson testified that Trump struggled with Secret Service agents who insisted he return to the White House rather than join supporters storming the Capitol where Congress was meeting to certify Democrat Joe Biden's victory over him in the presidential election.
Trump's supporters were roused by his false claims that his 2020 election defeat was the result of fraud
"'I'm the...president. Take me up to the Capitol now,'" Hutchinson quoted an enraged Trump as saying. She said Trump tried from the back seat to grab the steering wheel of the heavily armored presidential vehicle and lunged in anger at a Secret Service official.
Trump, a Republican, denied her account of his actions.
"Her fake story that I tried to grab the steering wheel of the White House Limousine in order to steer it to the Capitol Building is 'sick' and fraudulent," Trump wrote on Truth Social, his social media app.
In a statement, the Secret Service said it was cooperating with the House committee and would respond "on the record to the committee regarding the new allegations surfaced in today's testimony," multiple media reported. The Secret Service did not immediately respond to a request for comment from Reuters.
Hutchinson's lawyer Jody Hunt wrote on Twitter that she had "testified, under oath, and recounted what she was told. Those with knowledge of the episode also should testify under oath."