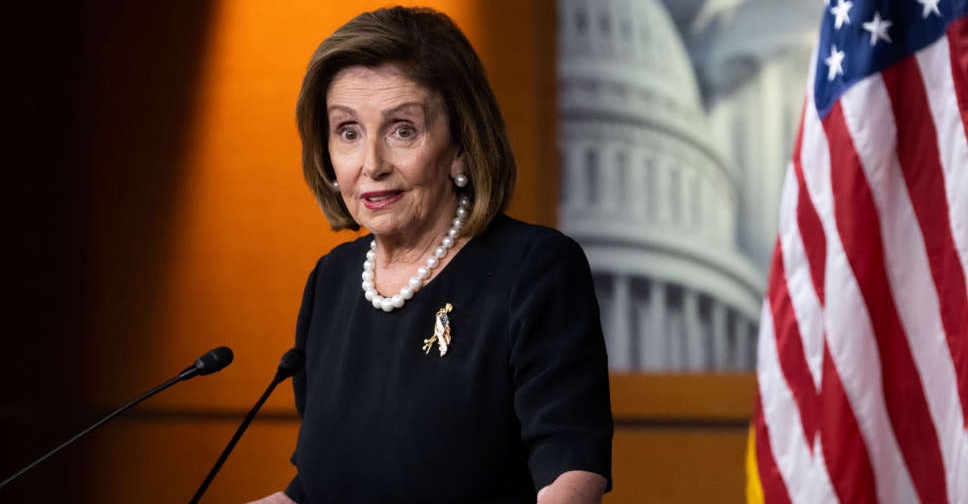 SAUL LOEB/ AFP
Chinese warplanes buzzed the line dividing the Taiwan Strait on Tuesday shortly before the expected arrival in Taipei of US House of Representatives Speaker Nancy Pelosi.
The Chinese leadership has repeatedly warned against Pelosi, a long-time critic of Beijing, making a trip to self-ruled Taiwan, which China claims as its own.
In the latest rhetorical salvo, Chinese Foreign Minister Wang Yi said on Tuesday that US politicians who "play with fire" on the Taiwan issue will "come to no good end".
The United States said on Monday it would not be intimidated by what it called Chinese "sabre rattling".
Most of Pelosi's planned meetings, including with President Tsai Ing-wen, were scheduled for Wednesday, a person familiar with her itinerary said.
Four sources said she was scheduled on Wednesday afternoon to meet a group of activists who are outspoken about China's human rights record.
Taiwan's foreign ministry said it had no comment on reports of Pelosi's travel plans, while her office has also kept silent.
On Tuesday night, Taiwan's tallest building, Taipei 101, lit up with messages including: "Welcome to Taiwan", "Speaker Pelosi", "Taiwan (heart) USA".
With tensions already high, several Chinese warplanes flew close to the median line dividing the Taiwan Strait on Tuesday morning, a source told Reuters.
Several Chinese warships have also sailed near the unofficial dividing line since Monday, the source added.
The Chinese aircraft repeatedly conducted tactical moves of briefly "touching" the median line and circling back to the other side of the strait while Taiwanese aircraft were on standby nearby, the person said.
The Chinese planes left the area in the afternoon but the ships remained, they said.
Neither side's aircraft normally cross the median line.
Meanwhile four US warships, including an aircraft carrier, were positioned in waters east of Taiwan on what the US Navy called routine deployments.
The carrier USS Ronald Reagan had transited the South China Sea and was currently in the Philippines Sea, east of Taiwan and the Philippines and south of Japan, a US Navy official told Reuters.
It was operating with a guided missile cruiser, USS Antietam, and a destroyer, USS Higgins. The amphibious assault ship USS Tripoli was also in the area.
Since last week, China's People's Liberation Army has conducted various exercises, including live fire drills, in the South China Sea, Yellow Sea and Bohai Sea, in a show of Chinese military might.