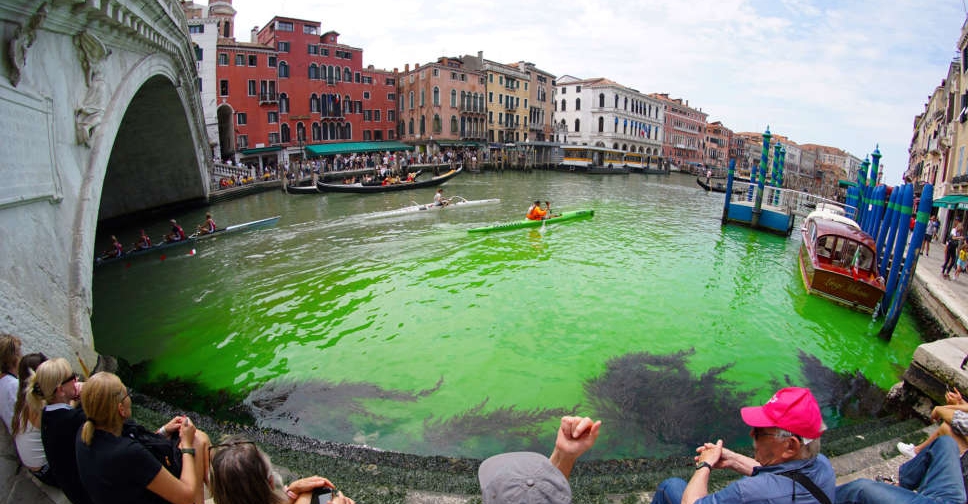 File picture
A peculiar sight greeted residents and visitors in Venice earlier this week as waters in the city's main canal turned fluorescent green.
Environmental authorities later determined that the unusual colouration was caused by a chemical commonly used in underwater construction to detect leaks.
The chemical in question, fluorescein, is non-toxic and poses no immediate harm to the ecosystem.
However, the source of the substance in the canal remains unclear.
The Regional Agency for the Environment in Venice (ARPAV) noted that the significant volume released into the water makes it unlikely to be an accidental occurrence. The emerald-coloured blob was initially spotted near the iconic Rialto Bridge on Sunday morning and gradually expanded throughout the day.
Photographs showcased gondolas, water taxis and water bus boats gliding through the vivid green substance. Authorities have initiated an investigation into the incident, exploring various leads, including potential environmental activism. The Venice Police spokesperson informed CNN that no group has claimed responsibility thus far.
Further testing is underway to determine the precise quantity of the chemical present in the water. Results are expected later this week, shedding light on the extent of the contamination. Luca Zaia, the president of the region of Venice, cautioned that this incident could inspire copycat acts by environmental activists.
Interestingly, this is not the first time Venice's Grand Canal has experienced a change in colour. Back in 1968, during the annual Venice Biennale, Argentine artist Nicolás García Uriburu coloured the canal's waters green using a fluorescent dye called Fluorescein. The intention behind the act was to draw attention to ecological concerns and explore the relationship between nature and civilisation.
The peculiar colouring of the Grand Canal occurred while the city was celebrating the Vogalonga boat event, aimed at mitigating wave motion, preserving Venetian traditions, and raising awareness about the environment. The event coincided with the opening of the architecture Biennale, further highlighting the significance of Venice's cultural and ecological heritage.