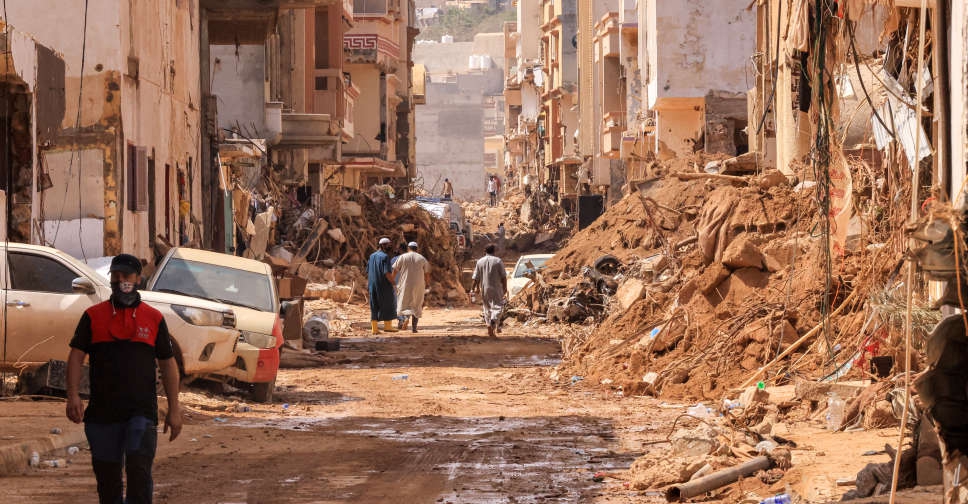 People whose homes were swept away by flooding in Libya's eastern city of Derna a week ago faced the dilemma on Sunday of whether to stay and risk infection or flee through areas where landmines have been displaced by the torrents.
Thousands of people were killed after two dams above Derna broke on September 10 during a powerful storm, bringing down residential blocks lining a usually dry riverbed as people slept. Many bodies have been washed out to sea.
The United Nations Office for the Coordination of Humanitarian Affairs (OCHA) on Saturday cited a death toll of 11,300 from the Libyan Red Crescent. However, a spokesman for the Libyan Red Crescent appeared to cast doubt on that, saying "figures are changing and the Red Crescent is not responsible for this."
OCHA spokesperson Eri Kaneko said it was difficult to get exact casualty figures as the search for bodies and survivors continues, and said the World Health Organisation (WHO) had so far confirmed 3,922 deaths. The health minister for the Libyan eastern government on Sunday said 3,283 had died.
More than 1,000 have already been buried in mass graves, according to the United Nations, and aid groups have warned against the practice.
Libyan authorities have confirmed that 150 people have been poisoned by polluted water in the flood-hit areas.
Entire districts of Derna, with an estimated population of at least 120,000, were swept away or buried in mud. State media said at least 891 buildings had been destroyed in the city, whose mayor has said 20,000 people may have died.
The homeless are surviving in makeshift shelters, schools or packed into the houses of relatives or friends, OCHA said.
Floodwaters had shifted landmines and other ordnance left over from years of conflict, posing an extra risk to the thousands of displaced people on the move, it added.
OCHA said that according to the latest data from the International Organisation for Migration, more than 40,000 people had been displaced across northeastern Libya, but warned that figure was likely to be higher.
CLINGING ON
Aid organisations have flown in emergency aid and some countries have sent supplies, although international officials say much more help is needed.
A French field hospital was being prepared in footage aired by Libya's Al Masar television.
In al Badya, a coastal settlement west of Derna, the hospital was treating victims from Derna as well as its own. Doctors built makeshift dams in the street when the flooding hit to try to hold back the water, but it rose within the building.
The flooding affected machinery on the lower level of the hospital, the hospital's head, Abdel Rahim Mazek, said.
Elsewhere in the town, volunteers handed out clothing and food.
The country of 7 million people has lacked a strong central government since a NATO-backed uprising that toppled Muammar Gaddafi in 2011 and its oil wealth is dispersed among competing groups.
Analysts said the disaster had brought some coordination between the internationally-backed administration in Tripoli in the west and the rival administration in the east but that reconstruction efforts would likely reopen fault-lines.