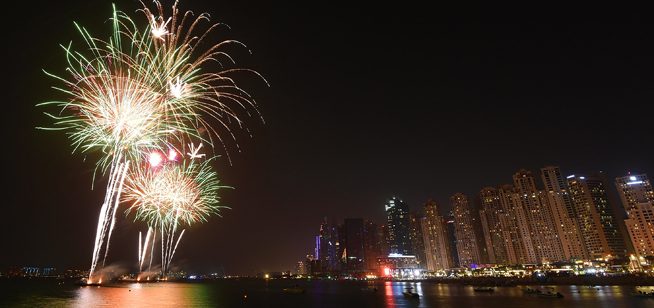 This Eid Al Adha there are so many places to gather with your friends or family and enjoy the fireworks.
From the first day of Eid all the way through to the weekend, check out the different places you can experience fireworks this Eid!
Yas Marina - 9:00pm

Yas Island is one of this years hotspots to watch the fireworks.
You can book a spot to watch the fireworks every night over the three-day occasion at 9pm each evening. The cool part of fireworks on Yas Marina is that you can book an evening cruise on board a traditional dhow and watch the firework display from the boat!
You can also enjoy your dinners while watching the fireworks at one of the restaurants in the Yas Marina.
The Beach, Dubai - 9:15pm

The three-day firework show is back each day between August 21 to August 23 at 9:15pm.
Promising to be more extravagant than ever, the shows are the perfect way to spend an evening over the Eid Al Adha break.
The Beach is world famous as a location to visit during Eid and welcomes thousands upon thousands of tourists during the holiday each year. This week there are also exclusive offers at selected outlets so you can bag a bargain whilst you take in the beautiful fireworks!
Le Mer, Dubai - 9:30pm

Le Mer at Jumeirah, Dubai also has three days of amazing fireworks! August, 21 to August, 23 La Mer is hosting their firework show from 9.30pm.
Lighting up the evening seaside sky will be a dazzling display of fireworks set to impress! Plus, La Mer is home to some fantastic food outlets which are perfect to celebrate Eid with loved ones - some of which outlets have amazing offers to celebrate the holdays!
Dubai Festival City - 9:00pm & 10:30pm

Dubai Festival City Mall are going one step further with their Eid Al Adha celebrations! Not one, but two musical fireworks display each evening at 9.00pm and 10.30pm on August 22 and August 23.
Arrive early to experience some of their shopping deals, book a restaurant on Festival Bay for dinner and watch their Imagine show which is deffo a family favourite!
Al Seef, Dubai - 9:00pm

This Eid Al Adha, Al Seef will be lighting up the sky over Dubai Creek across the three days of Eid, August 21 to August 23 from 9.00pm each night.
Al Seef is in the heart of Dubai, tucked away on the banks of the Creek.
Al Majaz Waterfront, Sharjah - 9:00pm

Experience two days of fireworks on August 21 & August 22 at 9pm. It's Sharjah's ultimate destination for families and is always a hotspot for tourists too.
Gather around the Musical Fountain and get ready for a three minute spectacular show!