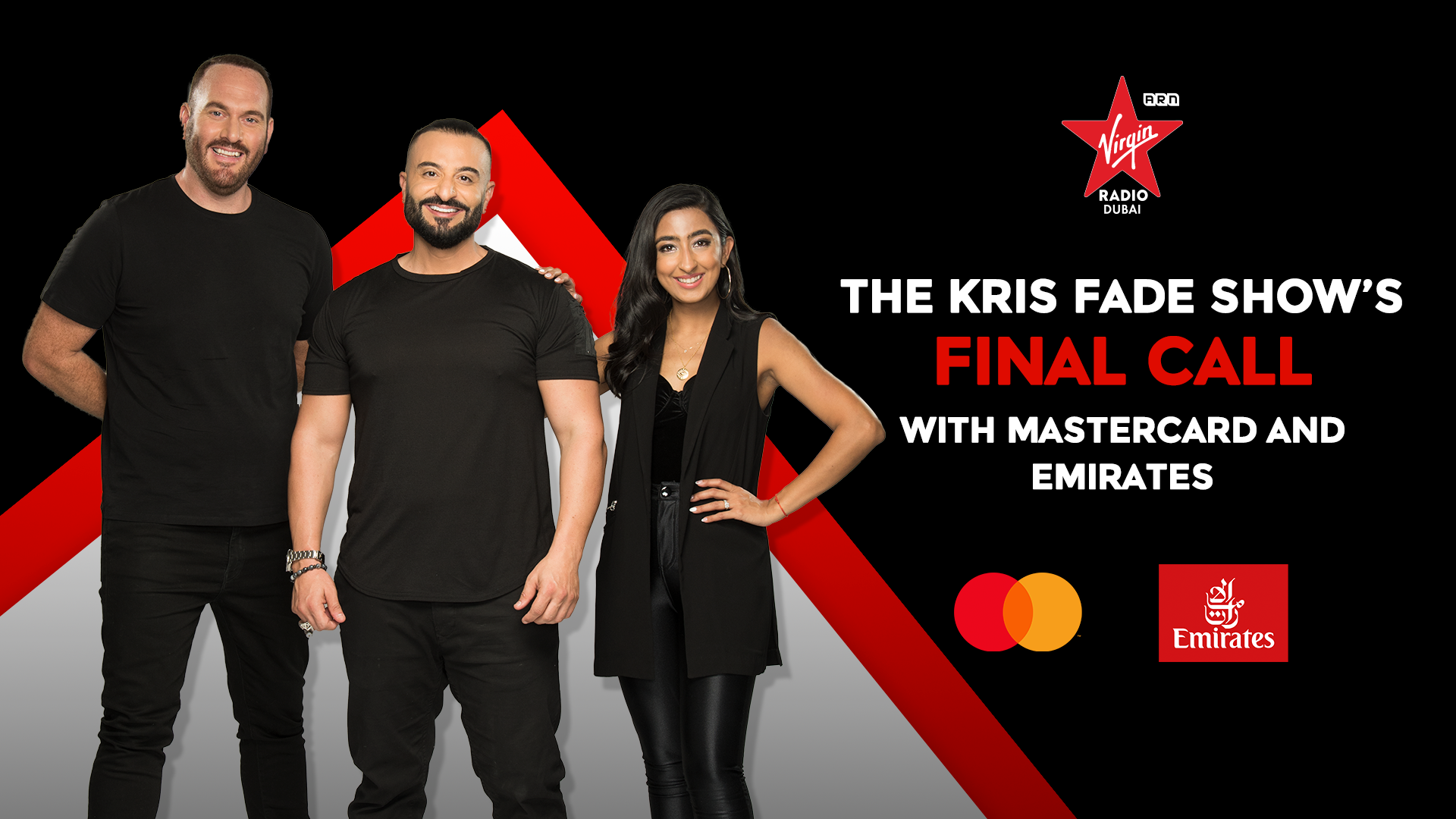 Virgin Radio has teamed up with Mastercard and Emirates for OUR BIGGEST HOLIDAY GIVEAWAY EVER!
More than 250,000 dirhams worth of holidays exclusive to Virgin Radio listeners … ARE UP FOR GRABS!!!
We'll be letting your dreams take flight – all you have to do is register below and be in a chance to be a part of Kris Fade's FINAL CALL, powered by Mastercard and Emirates.
Once you hear your name, you have 20 minutes to call us on 04 871 55 44 and tell us "WHAT WOULD MAKE YOUR VACATION PRICELESS?", do that and an Emirates Holidays voucher worth 15,000 dirhams could be yours, thanks to Mastercard and Emirates.
Tune in all day on Monday to find out if your name is in it, to win it, for the Final Call. We are giving away vouchers all day!
AND THAT'S NOT ALL –There is another way you could win an Emirates Holidays voucher, all you need to do is book your Emirates flights using your Mastercard before July 18 and you will enter a draw to win a voucher worth AED 15K! T&Cs apply.
Terms and Conditions apply
TERMS AND CONDITIONS FOR THE PRIZE:
Each winner will get an Emirates Holidays voucher worth AED 15,000.
The winner will have to visit the Emirates Holidays office '2nd Interchange - Emirates Holidays
Travel Store - Sheikh Zayed Rd – Dubai' in person and will be required to provide a valid identification document to claim the voucher. Date of collection TBC
The voucher can be utilized for holiday packages to any Emirates Holidays destination in the Emirates network. Minimum services to be booked are flights and hotel accommodation. Add on services can be included in the voucher such as airport transfers, excursions, tours, etc. If the package value exceeds the voucher value, the customer must pay the difference in price.
Services including flights and accommodation are subject to availability at the time of booking.
The voucher is valid for 1 year from the date of issue and valid for use from 01 October 2022 to 31 October 2023
If the value of the voucher is higher than the chosen Emirates Holidays package, the remainder value of the voucher will not be carried forward or refunded. If the value of the voucher is lower than the chosen Emirates Holidays package, the difference in value will be collected.
The voucher cannot be redeemed for cash or any other form of currency. The voucher is not transferrable, cannot be redeemed partially, and cannot be extended post the expiry date.
The voucher cannot be partially used, and the balance cannot be carried forward towards another package.
The package bought using the voucher is non-cashable, non-refundable, and non-reroutable.
Voucher is valid only for Emirates Holidays packages and not redeemable towards any other service such as Sky Cargo, Emirates Official Store, etc.
Expired vouchers will not be refunded, nor replaced if lost or damaged
Taxes payable at destination such as city tax, tourism fee, etc. will have to be paid by the customer directly at the hotel if applicable.
On the date of entry, each entrant must be at least 21 (twentyone) years and a legal resident of the United Arab Emirates.
Each entrant must ensure that his or her participation in the Promotion (including the acceptance of any prize awarded) is lawful in accordance with the laws of the country of which he or she is a citizen and/or resides in, and/or happens to be in at the time the entry is made.
Emirates shall not be taken to make any representations, express or implied, as to the lawfulness of any individual's participation, or as to any other aspect of the Promotion.
The entrant agrees that Emirates shall not be liable as a result of any refusal or failure to accept an application and no compensation shall be payable to any person in consequence of such action.
Emirates collects and uses the qualifying entrant's personal information in order to conduct this promotion and may, for this purpose, disclose or transmit such information to third parties rendering services in relation to this promotion. In processing the Data, Emirates may transfer it to countries that may not afford the same level of data protection as your country of residence.
However, in all cases, Emirates undertakes to collect, process, and store, save and transfer the Data in compliance with relevant data protection legislation in force from time to time. By entering this promotion and providing the data, the qualifying entrant authorises Emirates to collect and process the data in this manner.
The winner agrees to participate in reasonable publicity as may be requested by Emirates.
The winner agrees to the publication of their respective name and country in connection with this promotion.
Emirates Holidays terms and conditions apply.