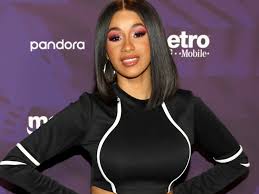 We LOVE Cardi b for her honesty! So before she hit the red carpet gala this week, she did a performance in Memphis and she confirmed she got liposuction after the birth of her baby Kulture.
While she was performing at her concert, she made a bit of an announcement:
"I have some news for y'all," "I should have canceled today. I shouldn't really be performing because moving too much is gonna ruin my lipo. But, I'm still gonna get my money bag, so let's go!"
WHOAAAA so she admitted getting lipo! She even admitted getting other parts of her body redone! "I feel good, but then sometimes I feel, like, not, you know? [When] your skin is stretched out. Yes, my daughter ruined me up. She did. She so did."
To each their own i guess! But at least she's honest about it! Rock it girl rock it!