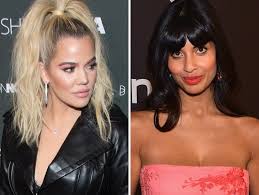 The Jameela Jamil and Khloe Kardashian beef continues! So if you don't know who Jameela Jamil is, she's a model, activist, presenter and actress (and pretty outspoken) She's also been quite opinionated about Khloe Kardashian promoting meal replacement shakes on her instagram. She basically said the Kardashian's are very irresponsible for promoting these shakes and then casually said: "their pockets are lined with the blood and diarrhea of teenage girls." Ouch!
Eventhough the Kardashians acted like they didn't care…their actions show otherwise. Khloe has deleted the photo on her instagram that advertised the meal replacement shakes! She got loads of backlash from others on her instagram too.
And now Jameela is celebrating! (sort of) She wrote:
In a lengthy comment on Khloé's now-deleted Instagram pic, Jameela wrote "If you're too irresponsible to: a) own up to the fact that you have a personal trainer, nutritionist, probable chef, and a surgeon to achieve your aesthetic, rather than this laxative product...And b) tell them the side effects of this NON-FDA approved product, that most doctors are saying aren't healthy [...] then I guess I have to. It's incredibly awful that this industry bullied you until you became this fixated on your appearance. That's the media's fault. But now please don't put that back into the world, and hurt other girls, the way you would have been hurt. You're a smart woman. Be smarter than this."
The claws are out!