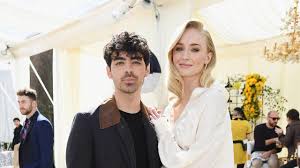 SO Joe Jonas and Sophie Turner shocked fans last week when they had a bit of a surprise wedding in Vegas after the Billboard awards! they even had an elvis impersonator - cheesy but so good!
Sophie spoke out about it and apparently they gave out last minute invites at the billboard awards!
She said: "It was really funny. We were at the Billboards. Joe I think had this idea that he wanted to do this. But we were at the Billboards and he had these little black cards that we all got. We were randomly inviting our friends, like people that we met. We were like, 'alright, we're going to set up this wedding now, we're going to the chapel right from here, and please arrive, please arrive.'
"We had Diplo, Khalid, they were really sweet, they arrived. Diplo Instagram Live-d the whole thing, it was awesome."
And while many were shocked by the surprise ceremony, but Priyanka said it was typical of them!
She told a news source : "That was so fun. It was so fun! And it's so Jophie, I call them Jophie. It's like, trust them to do that. That is Jophie!"
So that night, Nick and Priyanka were driving around Vegas in a pink limo with the guys.
She laughed: "It was so funny! I mean, we were driving around this pink Hummer limo. I was outside the window. It was just epic.
"I had that long hair extensions that I thought was going to fly out of the window. It was that kind of night -- a Jophie kind of night."