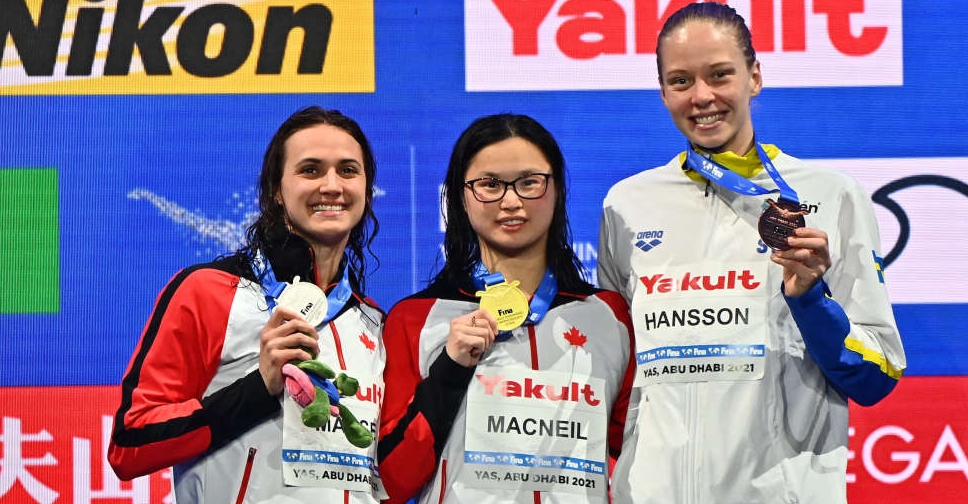 Supplied
Canada's Margaret MacNeil had a day to remember at the FINA World Swimming Championships (25m) as the 21-year-old set a new world record to win the women's 50m backstroke final on Monday night.
MacNeil, who had clinched gold in the 4x100m freestyle and 4x50m mixed freestyle earlier in the week, added to her victory haul, clocking 25.27 seconds.
She finished ahead of her compatriot Kylie Masse (25.62) and Sweden's Louise Hansson (25.86) at Yas Island's Etihad Arena.
Elsewhere, Japan's Daiyo Seto won his fifth world short course title in the 400m Individual Medley with a time of 3:56.26, equalling the competition record by Britain's James Hickman, who also won five in the 200m butterfly.
Meanwhile, Brazil's Nicholas Santos proved age is just a number as the 41-year-old stormed to victory in the Men's 50m Butterfly.
He recorded 21.93 seconds to edge Trinidad and Tobago's Dylan Carter (21.98) and Italy's Matteo Rivolta (22.02) to become the first swimmer to win a medal at the world championships (long or short course) after turning 40.
Other winners on the penultimate day included Canada's Sidney Pickrem (Women's 200m Medley) and China's Tang Qianting (100m breaststroke).
USA and the Russian Swimming Federation shared gold in the Men's 4x50m Medley Relay with a new championship record of 1:30.51, while Canada won gold in the Women's 4x200m Freestyle.