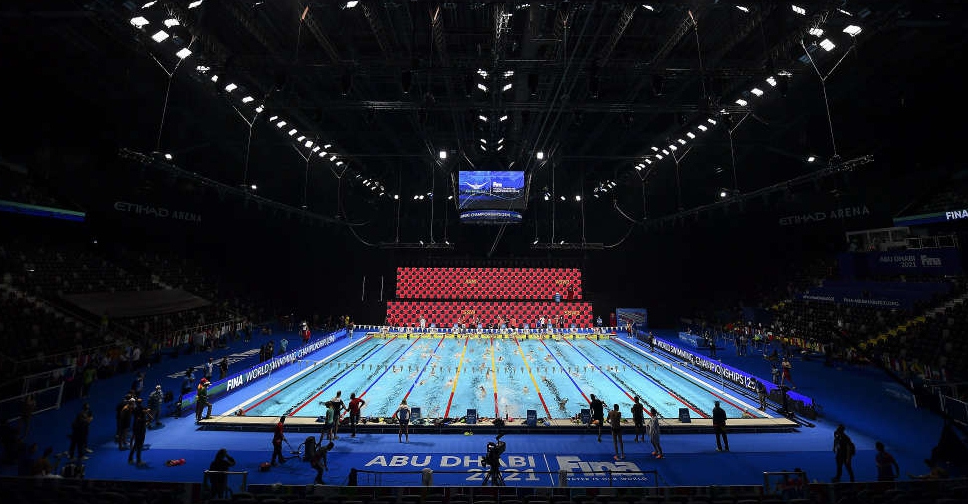 WAM
Key officials from Abu Dhabi Sports Council, FINA and the UAE Swimming Federation welcomed the international and Emirati athletes who will be competing in the FINA World Swimming Championships (25m) and the Global Aquatics Festival.
The 15th FINA World Swimming Championships, to run from December 16 to 21, is set to welcome the world's best' short course' swimmers, fresh from the Olympic Games.
Alongside the swimming action in the Arena, sports fans will be able to catch aquatics displays in Yas Bay with the FINA High Diving Qualifier, the ultimate leg of the FINA/CNSG Marathon Swim World Series 2021, a brand-new Open Water Swimming Mixed Relay and a FINA Diving Team Exhibition.
The athletes were welcomed at an official opening press conference held at the FINA Market Street at Yas Island's Etihad Arena on December 15.
They were joined by swimming and diving stars from around the world who will all be aiming to impress and vie for glory in front of thousands of spectators at the Etihad Arena over six days.
The official opening press conference was also held to mark the start of the FINA World Aquatics Festival, featuring all swimming disciplines for the very first time in FINA history, including diving, high diving, and open water swimming, alongside the World Championships.
Prior to the press conference, the aquatics festival got underway with the Mixed Relay (4 x 1500m) open water swim competition. Victory in the inaugural open water mixed team relay went to Italy, as the team, led by swimming sensation Gregorio Paltrinieri, soared to take home gold in the Yas Bay waters.
His split of 15:49.1 was the fastest of the nine teams. He swam 3.2 seconds faster than Hungary's Kristof Rasovszky, who doggedly challenged him in the final lap.
Aref Al Awani, General Secretary of Abu Dhabi Sports Council, said: "Just as Max Verstappen was crowned World Champion last weekend at the Formula 1 Etihad Airways Abu Dhabi Grand Prix, now the water is ready for more than 1,000 aquatic stars from over 180 countries!"
Sultan Al Samahi, President of the UAE Swimming Federation, said: "This coming week at the FINA World Swimming Championships, 6 of our most talented and promising swimmers will be lining up against the world's best and will showcase their talent and abilities to thousands of spectators inside the Etihad Arena and of course to millions of TV viewers around the world.
"We hope they can inspire the next generation of swimmers with their participation."