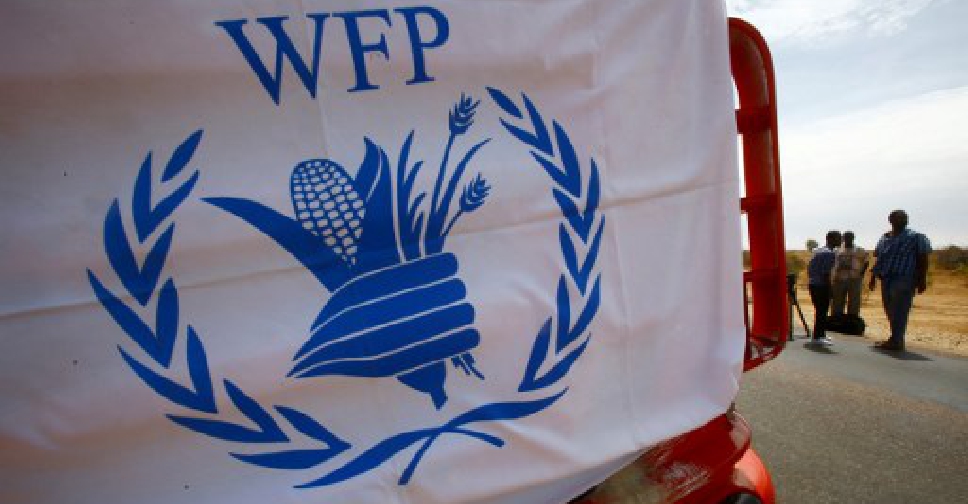 In this file photo taken on May 19, 2017 A convoy of trucks carrying humanitarian assistance provided by the World Food Program (WFP) to Southern Sudanese refugees, drives in the North Kordofan state. ASHRAF SHAZLY / AFP
The United Nations food agency, the World Food Programme (WFP), won the Nobel Peace Prize on Friday for its efforts to combat hunger and improve conditions for peace in conflict-affected areas.
The Rome-based organisation says it helps some 97 million people in about 88 countries each year and that one in nine people worldwide still do not have enough to eat.
"The need for international solidarity and multilateral cooperation is more conspicuous than ever," Chairwoman Berit Reiss-Andersen of the Norwegian Nobel Committee told a news conference.
The prize is worth ten million Swedish crowns, or around $1.1 million, and will be presented in Oslo on Dec. 10.

The @WFP has been awarded the 2020 #NobelPeacePrize for its efforts to combat hunger, for its contribution to bettering conditions for peace in conflict-affected areas and for acting as a driving force in efforts to prevent the use of hunger as a weapon of war and conflict.

— The Nobel Prize (@NobelPrize) October 9, 2020
Reacting to the award, a spokesman from U.N. World Food Programme said it was a "proud moment" for the organisation.
"The nomination in itself was enough but to then to go on and be named the Nobel Peace Prize winner is nothing short of a feat," spokesman Tomson Phiri said at a Geneva briefing.
He referred to the agency's work in providing food and supplies during the COVID-19 pandemic when airlines were no longer operating, saying it had gone "over and above the call of duty".
WFP is deeply humbled to receive the 2020 #NobelPeacePrize.

This is in recognition of the work of WFP staff who put their lives on the line every day to bring food and assistance to more than 100 million hungry children, women and men across the world. pic.twitter.com/cjHOtqLcLk

— World Food Programme (@WFP) October 9, 2020