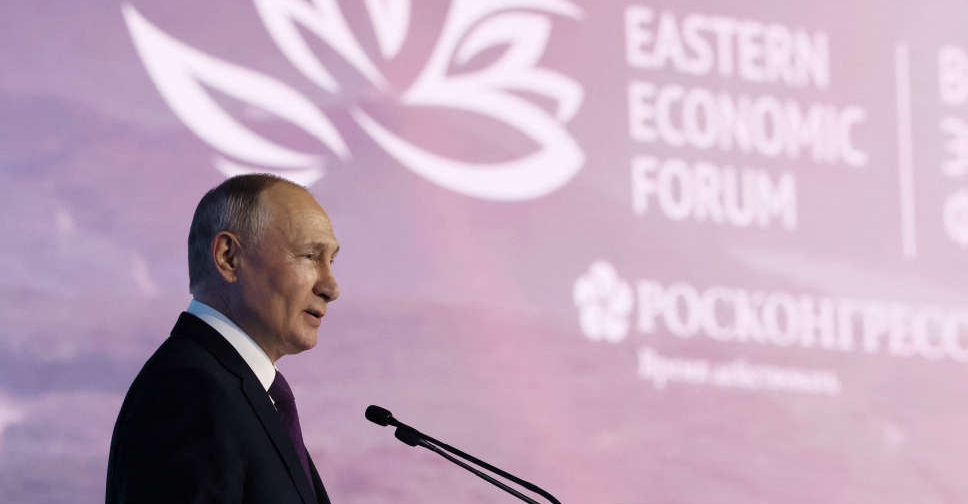 Russian President Vladimir Putin on Tuesday indicated he was bracing for a long war in Ukraine, saying that Kyiv could use any ceasefire to rearm and that Washington would continue to see Russia as an enemy no matter who won the 2024 US election.
Speaking for several hours at an economic forum in Russia's Pacific port city of Vladivostok, Putin said Ukraine's counteroffensive against Russian forces had so far failed and the Ukrainian army had sustained heavy losses of 71,000 men in the attacks.
Only when Ukraine was exhausted when it came to men, equipment and ammunition would it talk peace, he said in reply to questions from a Russian television presenter acting as a moderator.
But he said Kyiv would use any cessation of hostilities "to replenish their resources and restore the combat capability of their armed forces".
Putin said many potential mediators had asked him if Russia was ready to stop fighting but said that Russia could hardly do so when it was facing a Ukrainian counteroffensive.
For there to be any chance of talks, said Putin, Ukraine would first have to cancel its self-imposed legal ban on peace talks and explain what it wanted.
"Then we shall see," Putin said.
Russia controls about 18 per cent of Ukrainian territory, including Crimea which it annexed in 2014, and a swathe of eastern and southern Ukraine which it seized after invading Ukraine on February 24 last year in what it called a special military operation.
The war has sown devastation across cities and the countryside, and killed or injured hundreds of thousands of combatants and civilians.
For several months, Ukraine has been battling to try to regain some of the lost territory and has retaken some villages but has not yet made significant breakthroughs against heavily fortified Russian lines which are strewn with landmines.
Ukraine says it will not rest until every last Russian soldier is ejected from its land. The West says it wants to help Ukraine defeat Russia - an aim Kremlin officials say is an unrealistic pipedream.
US ELECTION
Putin said the prosecution in the United States of former President Donald Trump was politically motivated and demonstrated the "rottenness" of the US political system.
But the Kremlin chief said that no matter who won next year's US election, he expected no change in Washington's policy towards Russia.
"The will be no fundamental changes in the Russian direction in US foreign policy, no matter who is elected president," Putin said. "The US authorities perceive Russia as an existential enemy."
Putin also defended his pivot towards Asia, which he said was accelerated by the war and the West's attempt to constrict the $2.1 trillion Russian economy.
Speaking ahead of a meeting with North Korean leader Kim Jong Un, Putin said the West was trying to deter China from having close relations with Russia, but that such attempts had failed as ties with Beijing were at an unprecedented level.
The West's decision to supply Ukraine with cluster bombs and depleted uranium munitions was a crime, he said. Such supplies might prolong the war, he added, but they would not change its ultimate outcome.
He also criticised the West's decision to supply Ukraine with F-16 jets and any possible US supply of Army Tactical Missile Systems (ATACMS).
The Biden administration is close to approving the shipment of longer-range missiles packed with cluster bombs to Ukraine, Reuters reported this month.