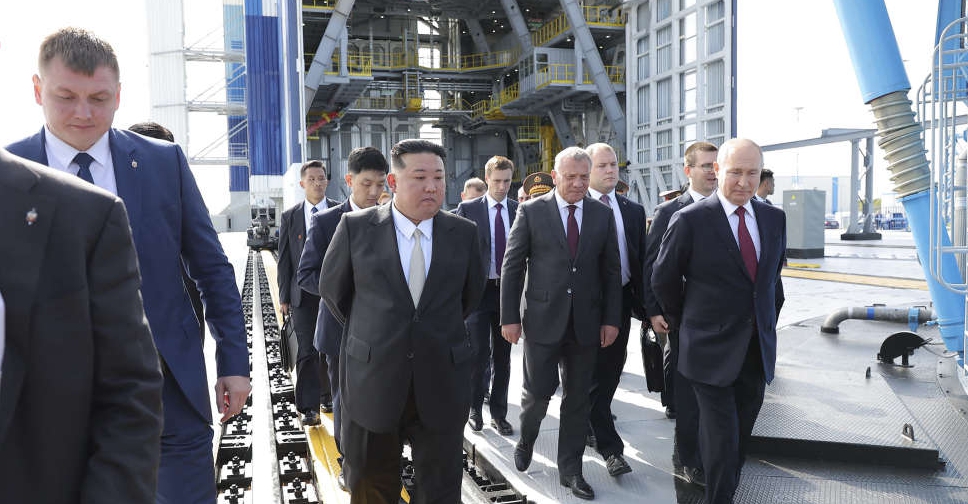 North Korean leader Kim Jong Un inspected a sanctioned fighter jet plant in Russia on Friday as part of a rare visit that the US and its allies fear could strengthen Russia's military in Ukraine and bolster Pyongyang's missile programme.
President Vladimir Putin met the 39-year-old North Korean leader for a summit on Wednesday at which they discussed military matters and deepening cooperation, and at which Kim invited Putin to visit North Korea.
Kim visited two aviation facilities in the far eastern city of Komsomolsk-on-Amur, the Yuri Gagarin Aviation Plant and the Yakovlev plant, both units of United Aircraft Corporation (UAC), which is sanctioned by the West over the war in Ukraine. The Gagarin plant is also specifically sanctioned by the United States.
Escorted by Deputy Prime Minister Denis Manturov, Kim inspected the assembly workshops at the Gagarin plant where the Sukhoi Su-35 multirole fighter and the Su-57 fighter are made, the Russian government said.
"Kim Jong Un and Denis Manturov inspected the fighter aircraft assembly plant and the final assembly shop of the Su-35 aircraft and the fifth-generation Su-57 aviation complex," the government said.
"The delegation also inspected the technological capabilities of the plant, which has been modernised and re-equipped - the machining production and a workshop of special coatings," the government said.
Kim inspected workshops where the fuselage compartments and wing assemblies of Russia's Sukhoi Superjet 100 are made before watching a demonstration flight of the Su–35.
"We have demonstrated to the leader of the Democratic People's Republic of Korea one of our leading aircraft production facilities," Manturov said. "We see the potential for cooperation both in the field of aircraft construction and in other industries."
For the US and its allies, the burgeoning friendship between Kim and Putin is a concern. Washington has accused North Korea of providing arms to Russia, but it is unclear whether any deliveries have been made.