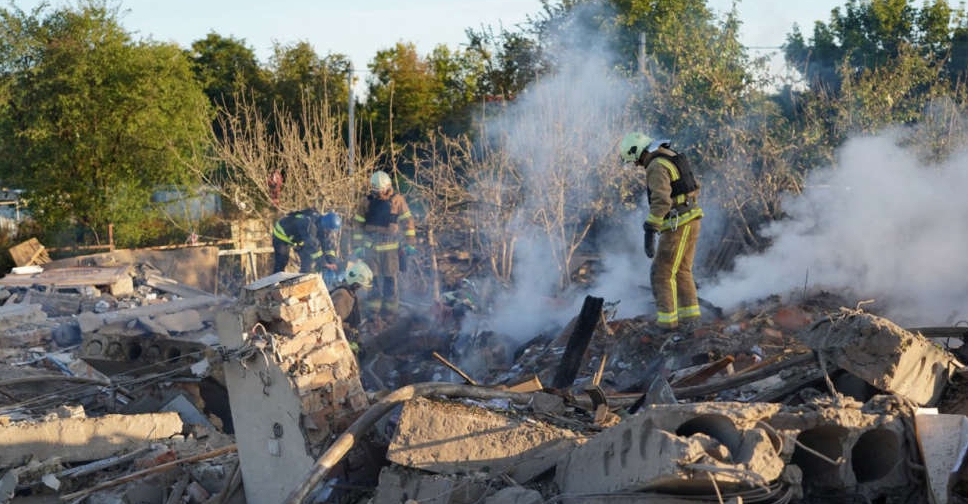 Four people were killed and scores wounded on Friday in Russian air strikes on Ukraine, including a deadly attack in which a missile slammed into a police building in President Volodymyr Zelenskiy's hometown.
In the latest wave of aerial attacks since Russia's invasion last year, two women and a 46-year-old man were killed in the village of Odradakamianka in the southern region of Kherson, regional governor Oleksandr Prokudin said.
The fourth death was in a missile strike that reduced a police administration building to rubble in the central city of Kryvyi Rih, where Zelenskiy was born.
Interior Minister Ihor Klymenko initially said a police officer had been killed but officials later said the victim was a private security guard.
Klymenko said 54 people were also wounded in the attack, which officials said damaged administrative buildings, 17 high-rise blocks, four private houses and a religious building.
"There is a lot of work - the enemy has caused a lot of trouble in the city," regional governor Serhiy Lysak said.
He posted photos on the Telegram messaging app showing rescuers sifting through the rubble, other workers bringing in materials to start repairs and volunteers distributing tea and biscuits to residents. A large fire was extinguished.
Russia also carried out its fifth drone attack of this week on the southern region of Odesa, which is home to Ukrainian ports on the Black Sea and Danube River that are used to export grain and other agricultural products.
AERIAL CAMPAIGN
Russia has carried out regular air strikes on cities and towns across Ukraine since the start of its invasion, including multiple attacks on the national power grid last winter that at times left millions of people without electricity.
Moscow has also intensified attacks on port infrastructure since mid-July, when it quit a UN-brokered deal that allowed safe passage of Ukrainian grain shipments via the Black Sea.
Ukraine, which is gradually making progress in a three-month-old counteroffensive in the south and east, is a major global grain producer and says the attacks on its ports are intended to stop it exporting its grain.
Officials said air defences shot down 16 of the 20 drones fired by Russia overnight - the Southern military command said 14 drones had been brought down over Odesa region and two more over the southern region of Mykolaiv.
Kiper reported damage to a non-residential building in the Odesa region that was hit by falling debris from a drone, but no casualties.
Regional officials said Russia had also attacked the southeastern region of Zaporizhzhia and the northeastern region of Sumy with missiles, wounding several people.
Ukraine's emergency services said three people had been hurt in the Sumy region and posted a video showing rescuers pulling an injured woman out of a large crater caused by the explosion.
Russia did not immediately comment on the latest attacks but denies deliberately attacking civilians.