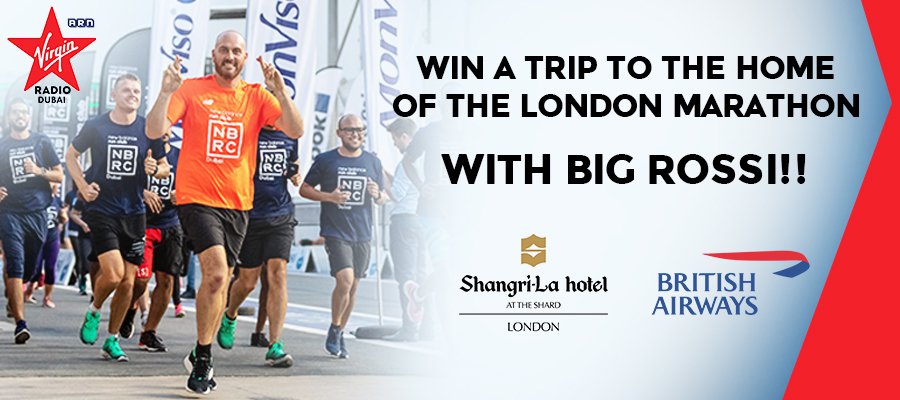 It all started when Big Rossi wanted to lose a bit of weight in time for Redfest, but now Rossi's new found love for fitness is going to the next level!
Rossi has been training hard for the London Marathon and on Sunday, 28 April he is taking the challenge and running 42.2 km through the city of London!
To celebrate, we're asking you to predict his time and the closest one will win a trip to London for 2, flying with British Airways and staying at the beautiful Shangri-La Hotel, at The Shard, London.

Hints:
The course record in London for a male is 2 hours 3 minutes and 5 seconds – we doubt Rossi will be anywhere near this time!
The average marathon finishing time is 4 hours, 22 minutes and 7 seconds – this would be tough for Rossi too!
The cut off time for the London Marathon is 8 hours – this sounds more like it for our Rossi!
If Rossi runs for longer than 6 hours he'll be forced to wear a Liverpool Shirt for an entire week – now that's motivation to make it in under 6!
GUESS THE TIME TO WIN
About Shangri-La Hotel, at The Shard, London.
Feel an unparalleled connection to London, at Shangri-La Hotel, At The Shard, London. Stay in the capital's highest hotel, in one of the world's most iconic buildings, whilst enjoying panoramic skyline views that connect you to the whole city. This is the only five-star luxury hotel in London Bridge, contrasting sleek modern style with the area's rich historic character. To capture London's dynamic personality, Shangri-La service has been redefined with a style that feels friendly, warm and genuine, giving you a truly unique experience of the capital.
PHOTO GALLERY