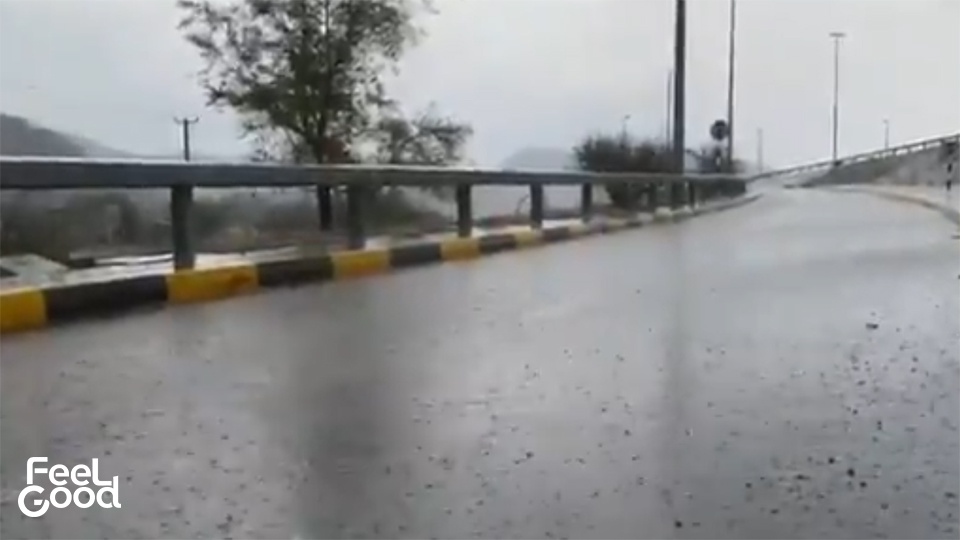 Residents around the UAE were greeted with rain on Sunday afternoon - the first time in the season. Social media was quickly filled with videos and tweets talking about the surprise showers.
November Rain is here. #gunsnroses #Dubai pic.twitter.com/gudLqPEBZ0

— Big Daddy Vin (@vinsinners) November 8, 2020
First rain in dubai today 😍 people will be out and about in the rain again 🤭 winter is coming!!! time to shop for winter clothes 🥰

— ⁹¹⁸ — 𝐡𝐞𝐥𝐥𝐨, 𝐯𝐢 ♧ (@only_sebaek) November 8, 2020
Finally some rain in Dubai

— Jalal Bin Thaneya (@Binthaneya) November 8, 2020
In a series of tweets, the UAE's National Centre of Meteorology (NCM) showed footage of heavy rain in parts of Sharjah and RAK. The NCM also tweeted that parts of Fujairah and Dubai experienced moderate rainfall. Additionally, the UAE's weather authority also issued an advisory for convective clouds for today.
طريق وادي الحلو - كلباء #الشارقة ⁧#المركز_الوطني_للأرصاد⁩ ⁧#أمطار_الخير⁩ ⁧#أصدقاء_المركز_الوطني_للأرصاد⁩ ⁧#حالة_الطقس⁩ ⁧#حالة_جوية⁩ ⁧#هواة_الطقس⁩ #عبيد_الشامسي #عواصف_الشمال pic.twitter.com/PPQFz3DfMY

— المركز الوطني للأرصاد (@NCMS_media) November 8, 2020
أمطار خفيفة إلى متوسطة على جميرا (دبي)
Light to moderate rain over Jumairah (Dubai)#أمطار #أمطار_الخير #استمطار #تلقيح_السحب #المركز_الوطني_للأرصاد#Rain #Cloud_Seeding #NCM

— المركز الوطني للأرصاد (@NCMS_media) November 8, 2020
طريق وادي الحلو - كلباء ⁧#رأس_الخيمة #الشارقة ⁩ ⁧#المركز_الوطني_للأرصاد⁩ ⁧#أمطار_الخير⁩ ⁧#أصدقاء_المركز_الوطني_للأرصاد⁩ ⁧#حالة_الطقس⁩ ⁧#حالة_جوية⁩ ⁧#هواة_الطقس⁩ #عبيد_الشامسي #عواصف_الشمال pic.twitter.com/b4u8oW6OKF

— المركز الوطني للأرصاد (@NCMS_media) November 8, 2020
#Alert #NCM pic.twitter.com/GIY7h59XWA

— المركز الوطني للأرصاد (@NCMS_media) November 8, 2020
#أمطار_الخير في منطقة #ديرة بـ #دبي @NCMS_media #أمطار#أمطار_الإمارات #البيان_القارئ_دائما pic.twitter.com/fD8Nspi3fV

— صحيفة البيان (@AlBayanNews) November 8, 2020