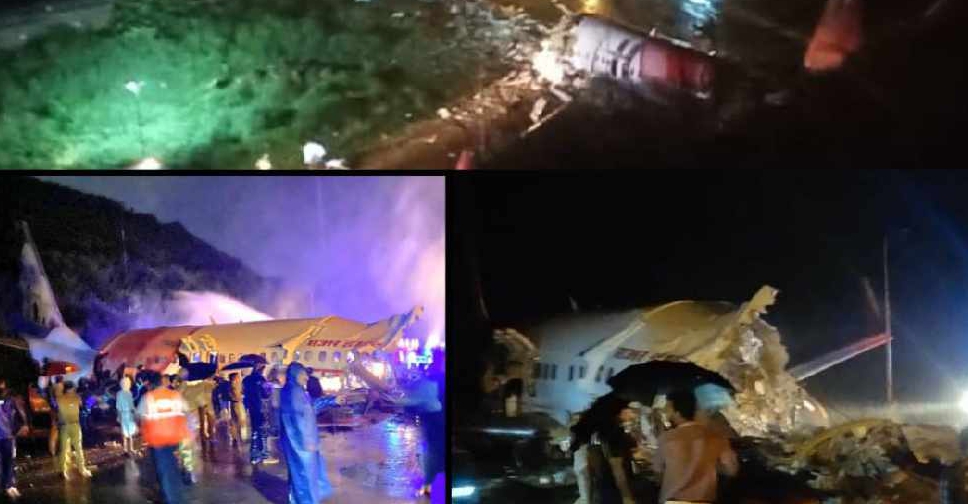 Twitter
An Air India Express flight from Dubai skidded off the runway while landing at Kerala's Kozhikode on Friday.
The flight, IX1344, was part of the 'Vande Bharat' repatriation mission.
It skidded during landing at Karipur Airport at 7:40 pm (India time) amid heavy rain.
The aircraft was carrying 190 people - 174 adult passengers, 10 infants, four cabin crew and two pilots.
According to Indian authorities, at least 18 people, including the pilot and the co-pilot, have been killed in the incident.
All the injured have been shifted to various hospitals in Kozhikode and Malappuram districts of Kerala.
As per the flight manifest there were 190 people on flight AXB-1344 including 174 adult passengers,10 infants, 4 cabin crew & 2 pilots.
Unfortunately, 16 people have lost their lives. I offer my heartfelt condolences to their next of kin & pray for speedy recovery of the injured.

— Hardeep Singh Puri (@HardeepSPuri) August 7, 2020
Two investigation teams of professionals from @airindiain @AAI_Official & AAIB will leave for Kozhikode at 02.00 hrs & 05.00 hrs.

Everyone has now been rescued from the aircraft.

Rescue operations are now complete.

Injured being treated at various city hospitals.

— Hardeep Singh Puri (@HardeepSPuri) August 7, 2020
Images posted on social media showed the aircraft fall into a deep gorge and then split into two.
In a Tweet, the Consulate General of India in Dubai listed out helpline numbers and added that the mission will be open on Saturday, August 8 to offer assistance.
Consulate will be open tomorrow Saturday August 8 at 8 AM to assist all who want any assistance to travel to Kerala or any information related to aircrash incident. We are with all the families of injured and deceased and will do our best to assist them @MEAIndia @IndembAbuDhabi

— India in Dubai (@cgidubai) August 7, 2020
Air India Express Flight No IX 1344 from Dubai to Calicut skidded off the runway.We pray for well being of passengers and crew and will keep you updated as and when we receive further updates.Our helplines 056 546 3903, 0543090572, 0543090572, 0543090575 @MOS_MEA @IndembAbuDhabi

— India in Dubai (@cgidubai) August 7, 2020
Air India Control Room (Kozhikode) - 0091 483 2710189.
Helpline (Kozhikode) - 0091 495 2376901.
Malappuram Collectorate : 0091 483 2736320.
Kozhikode Collectorate : 0091 495 2376901@MEAIndia @AmbKapoor @cgidubai @FlyWithIX @airindiain

— India in UAE (@IndembAbuDhabi) August 7, 2020
The Indian Prime Minister Narendra Modi and Home Minister Amit Shah took to Twitter to express their condolences.
Pained by the plane accident in Kozhikode. My thoughts are with those who lost their loved ones. May the injured recover at the earliest. Spoke to Kerala CM @vijayanpinarayi Ji regarding the situation. Authorities are at the spot, providing all assistance to the affected.

— Narendra Modi (@narendramodi) August 7, 2020
Distressed to learn about the tragic accident of Air India Express aircraft in Kozhikode, Kerala.

Have instructed NDRF to reach the site at the earliest and assist with the rescue operations.

— Amit Shah (@AmitShah) August 7, 2020
[Image: AFP]