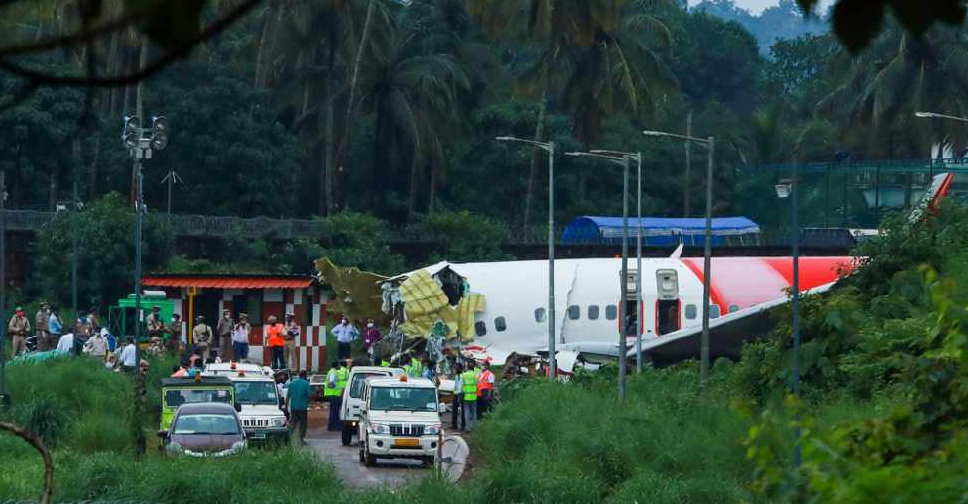 ARUNCHANDRA BOSE / AFP
The data recorders of the Air India Express flight from Dubai that skidded off the runway while landing at Kozhikode airport on Friday have been recovered.
Eighteen people, including both pilots, were killed after the plane overshot the runway while landing in heavy rains at the airport in Kerala.
Flight IX-1344 was operating under the 'Vande Bharat Mission' to repatriate Indians stranded abroad.
The Boeing 737 overshot the runway at around 7:40 pm (India time) and slid into a valley, said India's Civil Aviation Minister Hardeep Singh Puri, who has ordered an investigation.
The aircraft was carrying 190 people - 174 adult passengers, 10 infants, four cabin crew and two pilots.
Puri said authorities managed to rescue most of the passengers because the plane did not catch fire while descending the slope at the end of the runway.
Our task would have been much more difficult if the plane had caught fire. I am going to the airport (Kozhikode International Airport in Karipur): Hardeep Singh Puri, Civil Aviation Minister #Kerala https://t.co/4jXb4PAxQI

— ANI (@ANI) August 8, 2020
Reached Kozhikode to take stock of the status & implementation of relief measures after the air accident last evening.

Will hold consultations with senior civil aviation officials & professionals. pic.twitter.com/wyjFkbaJrH

— Hardeep Singh Puri (@HardeepSPuri) August 8, 2020
At least 149 people are currently being treated for their injuries, with some of them in critical condition.
primary medical treatments. 149 passengers are undergoing treatment in these hospitals. Out of this, 22 passengers are critically injured.

District Collector
K Gopalakrishnan

— Air India Express (@FlyWithIX) August 8, 2020
Meanwhile, India's diplomatic missions in the UAE have listed out helpline numbers.
Helpline Numbers for enquires related to Air India Express Flight No IX 1344 from Dubai to Kozhikode:
CGI Dubai's Helpline numbers - 056 546 3903, 0543090571, 0543090572, 0543090575.
Air India Express helpline number - 00971 6 5970303 (Sharjah)@AmbKapoor @cgidubai @FlyWithIX https://t.co/WD4J8eejf1

— India in UAE (@IndembAbuDhabi) August 7, 2020
Air India Control Room (Kozhikode) - 0091 483 2710189.
Helpline (Kozhikode) - 0091 495 2376901.
Malappuram Collectorate : 0091 483 2736320.
Kozhikode Collectorate : 0091 495 2376901@MEAIndia @AmbKapoor @cgidubai @FlyWithIX @airindiain

— India in UAE (@IndembAbuDhabi) August 7, 2020
An Air India Express statement on Saturday said special relief flights have been arranged from Delhi and Mumbai to provide humanitarian assistance to all the passengers and their family members.
It added that senior officials have reached Kozhikode to investigate the incident.
Air India Express Accident Bulletin : 3 pic.twitter.com/m7ZGRINsoh

— Air India Express (@FlyWithIX) August 8, 2020
#FlyAI : CMD Air India Rajiv Bansal along with senior airline officers have rushed to the Air India Express incident site in Kozhikode to take stock of the situation and are being briefed by experts. All possible assistance and support is being provided to those affected. pic.twitter.com/LdBNdTUXxT

— Air India (@airindiain) August 8, 2020
Our Dubai Helpline number :
+97142079444 pic.twitter.com/pcFf7zpHKJ

— Air India Express (@FlyWithIX) August 7, 2020
Our Abu Dhabi Helpline number : +971 2 6313789 pic.twitter.com/1J9ECUQ1CX

— Air India Express (@FlyWithIX) August 7, 2020