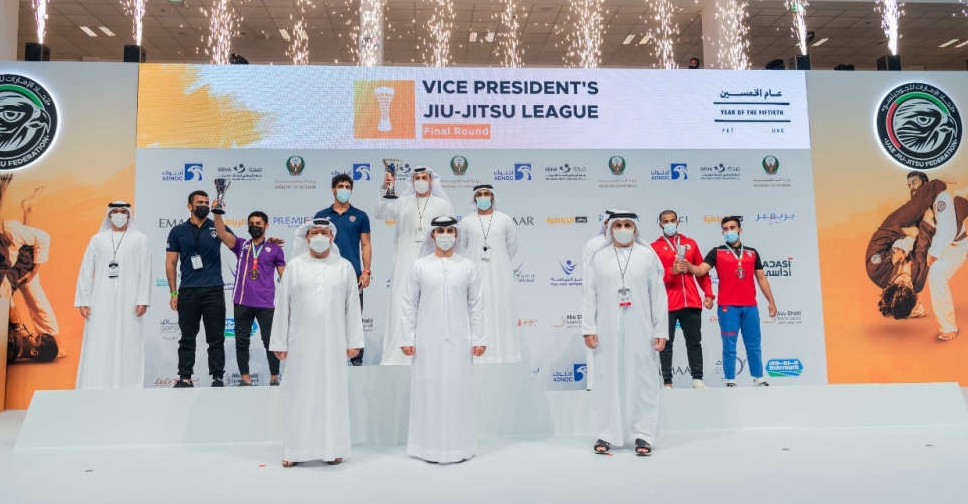 DXB Media Office
His Highness Sheikh Mansoor bin Mohammed bin Rashid Al Maktoum, Chairman of the Dubai Sports Council, crowned the winners of the final round at the Jiu-Jitsu Arena in Zayed Sports City in Abu Dhabi.
Teams from Al Wahda Club Jiujitsu academy, Al Ain jiujitsu club and Sharjah self-defence sports club walked away with top honours in various categories.
Sheikh Mansoor also praised all the participants at the competition and expressed optimism that the success of the tournament will usher in greater international exposure for UAE's jiujitsu scene.
"This is important for our strategic vision of establishing a healthy lifestyle among all members of the society, with a focus on emerging talents that will guarantee a bright future of sports in the UAE at the global level," he said.
His Highness also praised the continuous efforts made by the Emirates JiuJitsu Federation to advance this sport to make UAE became the global capital of the game.
The tournament is a predecessor to some of the most prominent international Jiujitsu competitions that are scheduled to be held later this year, such as the Abu Dhabi World Jiujitsu Championships.
.@sheikhmansoor witnesses the final round of the Jiu-jitsu Vice President Cup at the Jiu-Jitsu Arena in Abu Dhabi and crowns the winners of the championship. pic.twitter.com/kty2UHgF47

— Dubai Media Office (@DXBMediaOffice) September 25, 2021