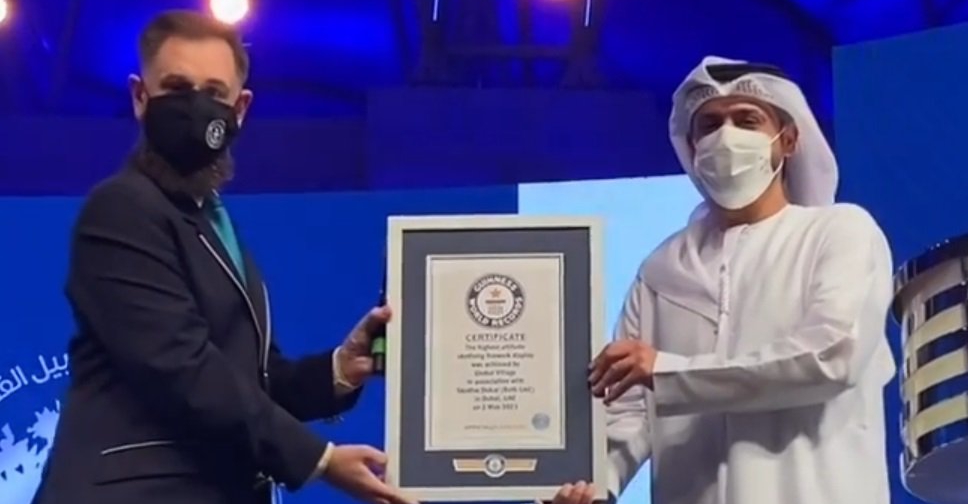 @globalvillageuae/ Instagram
Global Village concluded its Silver Jubilee Season in spectacular fashion, etching its name in the history books.
Having set out in October with the aim of breaking 25 Guinness World Records to honour the milestone anniversary, this vision became a reality on Sunday.
The multicultural family destination has broken the record for the "Highest altitude skydiving fireworks display", adding the finishing touch to a memorable season.
Global Village partnered with Skydive Dubai to complete the achievement and provide guests with a spectacular finale to the season.
It also becomes the first organisation in the MENA region to break 25 records.
The 20 skydivers jumped from an altitude of more than 15,000 feet, lighting the skies with 78 fireworks representing the 78 cultures who were present in Global Village during the 25th season.
Today we broke our 25th and final Guinness World Record of the Silver Jubilee Season with the highest altitude skydiving firework display✨#GVWOW@skydivedubai pic.twitter.com/N45vPoOmcj

— Global Village القرية العالمية (@GlobalVillageAE) May 2, 2021
Once the evidence was validated, the Guinness World Record official presented Bader Anwahi, CEO of Global Village, with the 25th certificate of the season.
Anwahi then pressed the famed Global Village Fireworks Button to launch the final display of the Season.
Global Village will return for Season 26 in October, and announcements will follow over the coming months.